This article will be updated as we get more information about expansions and as time goes on. Expansions that are released will be removed from the list and new rumors or information will be added at the bottom.
As of the time of writing this article, the next sets are already announced and available for preorder. But as they are not yet released, let's go over them rather quickly.
We are brave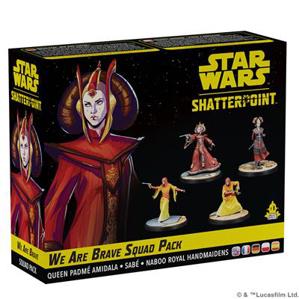 The We are brave squad pack is currently available for preorder at the asmodee store and should be releasing on September 1st. This box contains:
Queen Padme Amidala
Sabe
2 Naboo Royal Handmaidens
We are not sure what all their abilities are, but we are seeing them show up in the transmissions.
At this time, we know what Padme will do. She seems like a great cornerstore for an Galactic Republic team.
Fistful of credits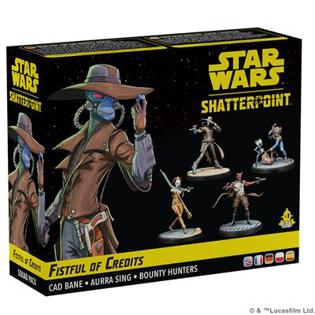 The Fistful of credits squad pack will be releasing alongside the We are brave squad pack on September 1st. In this box, you'll find:
Cad Bane
Aurra Sing
2 Bounty Hunters
We are also not sure what exactly the synergies will be in this box, but we can expect some synergies with the tags that Cad Bane comes with: Bounty Hunter, Mercenary, Scoundrel.
These tags aren't really used that much yet. The only other character with these tags is Jango Fett and Darth Maul for just the Scoundrel tag. His Identity also wants you to put Bounty Hunter characters in your team, so we can expect the other characters to also have that trait. It is a bounty hunter squad after all.
Let's now talk about the sets coming after that. We are not sure when exactly these sets will be released, but we are quite certain that they are coming. The first two are sets that had their models shown off on Gencon. Judging from that, I think we can make a good guess that they will be the next sets to release.
Darth Vader & Troopers
Darth Vader was one of the sets that was announced on Adepticon. He seems to be joined by storm troopers as his secondary and support characters. We don't know much more about him, but he will likely be in a single era that we haven't seen any characters in yet as I don't expect him to share the same era as the current Darth Vader.
Luke Skywalker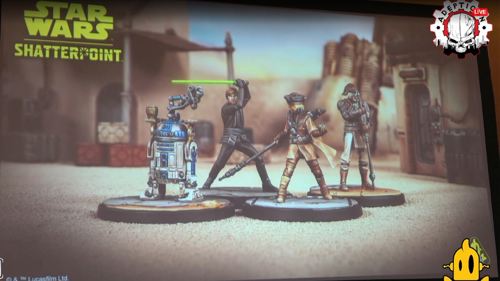 Luke Skywalker and the team was another set that was shown at Adepticon. He will be joined by R2-D2, Lando and Leia as the set is inspired by the Jabba Palace rescue scene in the movies. 
The next ones were also shown in Adepticon, but that is all we know. We don't know in what order they will come out or when we'll know more. I suspect these will be the sets after Darth and Skywalker, but anything can still happen.
Ewoks
This set is still a bit of a mystery as we don't know who will be the primary, secondary or the support. They are rumors that the Ewoks will be 2 sets, one of them having C-3PO as their primary.
Plo Koon
Plo Koon was also shown. He come with Padawan Ahsoka and his clone troopers. So yes, this set will most likely have 2 secondary units in it.
The next ones are all still sculpts and are planned for in the future.
Iden Versio, Commander of the Inferno Squad
Han Solo
The Mandalorian and Grogu
The Ghost Crew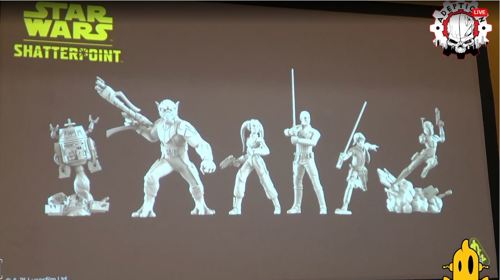 Mentions
And then we also had some mentions of characters that we can expect. 
Kit Fisto was named as one of the characters coming in the Shatterpoint Announcement video
Hondo was mentioned in one of the videos of Adepticon and is also shown on the shatterpoint card in the core box.
And that is all the information that I have for you. If you think, that I am missing something then I would love to hear it. You can find me in the Star wars shatterpoint discord!
Thank you again for reading and happy playing!